What it takes for an immigrant to get a green card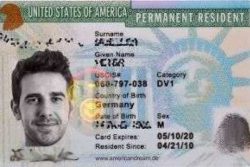 A major step in achieving the American is getting that valuable document: the permanent residence card, or green card.
The green card provides three important rights to immigrants who have it:
Live permanently in the United States provided you do not commit any actions that would make you removable under immigration law
Work in the United States at any legal work of your qualification and choosing. (Please note that some jobs will be limited to U.S. citizens for security reasons)
Be protected by all laws of the United States, your state of residence and local jurisdictions
The following guide, based on official information from the U.S. Citizenship and Immigration Services (USCIS) and other government resources, offers a broad look at the different requirements for immigrants who want to obtain and maintain a green card.
HOW TO OBTAIN A GREEN CARD
U.S. immigration laws offer immigrants several ways of applying for green cards, depending on their individual situations. Most require a sponsor who can be a close relative or an employer.
USCIS says applicants must complete at least two forms, an immigrant petition and a Green Card application (Form I-485).
But first they must qualify under at least one of the eight following categories:
▪ Family
▪ Employment
▪ Special Immigrant
▪ Refugee or Asylee Status
▪ Human Trafficking and Crime Victims
▪ Victims of Abuse
▪ Other Categories such as the Visa Lottery and the Cuban Adjustment Act
▪ Registry
Disclaimer: The information in this blog post ("post") is provided for general informational purposes only, and may not reflect the current law in your jurisdiction. No information contained in this post should be construed as legal advice from Muhaisen & Muhaisen, LLC. or the individual author, nor is it intended to be a substitute for legal counsel on any subject matter. No reader of this post should act or refrain from acting on the basis of any information included in, or accessible through, this Post without seeking the appropriate legal or other professional advice on the particular facts and circumstances at issue from a lawyer licensed in the recipient's state, country or other appropriate licensing jurisdiction