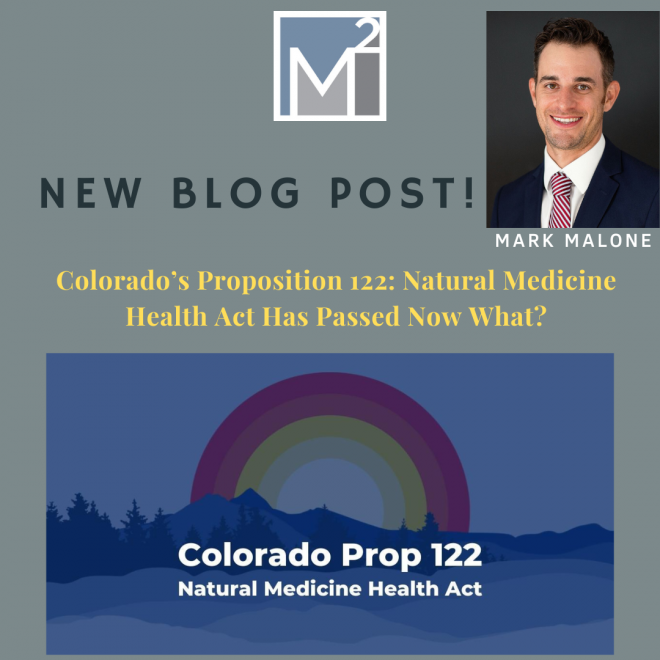 Colorado's Proposition 122: Natural Medicine Health Act Has Passed Now What?
By Mark Malone, Esq.
Colorado passed Proposition 122, the Natural Medicine Health Act ("NMHA"), in November 2022. In sum, the new law will allow adults 21 and older access to natural psychedelic medicines that show promise in treating depression, trauma, PTSD, addiction, anxiety and other mental illnesses.
The biggest misconception about NMHA is that it will allow recreational sales and use; it does not. Pursuant to NMHA there will be a licensed facility with licensed facilitators where these medicines can be administered. Colorado Department of Regulatory Agencies (DORA) will set the qualifications for the facility and facilitators. The medicines (psilocybin or psilocyn) will be grown under the regulations set by DORA.
There are many issues that will be worked out over the next year or more before facilities will be able to operate. Like Cannabis, there will issues in banking, insurance and other institutions that may be influenced by or under Federal control because these medicines are still Federally illegal.
Important dates moving forward:
NO LATER THAN JANUARY 1, 2024, THE DEPARTMENT SHALL ADOPT RULES TO ESTABLISH THE QUALIFICATIONS, EDUCATION, AND TRAINING REQUIREMENTS THAT FACILITATORS MUST MEET PRIOR TO PROVIDING NATURAL MEDICINE SERVICES, AND TO APPROVE ANY REQUIRED TRAINING PROGRAMS.
NOT LATER THAN SEPTEMBER 30, 2024, THE DEPARTMENT SHALL ADOPT RULES NECESSARY TO IMPLEMENT THE REGULATED NATURAL MEDICINE ACCESS PROGRAM AND SHALL BEGIN ACCEPTING APPLICATIONS FOR LICENSURE BY THAT DATE WITH DECISIONS MADE ON ALL LICENSING APPLICATIONS WITHIN 60 DAYS OF RECEIVING THE APPLICATION.
Just like Colorado's Cannabis industry, the "Natural Medicine Industry" will have its hurdles and kinks to work through. Accomplishing this measure is a huge win for individuals who struggle with mental illness.
If you are thinking of getting involved in this industry it is important to understand the regulations that will be in place and to consult with an attorney in this field. Contact Mark@muhaisenlaw.com to schedule a free initial phone consultation.