The Immigration Interview – 5 Important Tips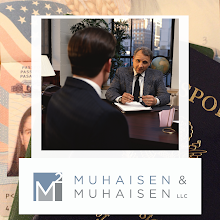 One of the most important parts of an immigration application is the final interview with U.S. Citizenship and Immigration Services (USCIS) officials, which sparks great anxiety because of fears of a denial.
Almost all applications for immigration benefits require the feared interview, among them citizenship through naturalization, affirmative asylum, adjustment of status, permanent residence, and green card through marriage.
Applicants must be very well prepared for the personal interviews in the USCIS offices, because a misstep can cost them their permanent residence in the United States and force them to start the process all over again or even face deportation
In an effort to help legal immigrants, Muhaisen & Muhaisen LLC immigration attorneys offer the following advice.
1. Bring Your Own Interpreter
USCIS does not provide interpreters, and your case may be delayed if you do not have a translator there that can speak your language. You must register the interpreter before the interview using a particular form. But bear in mind that if the interview is for citizenship purposes, it must be done entirely in English.
2. Be early
Make sure and arrive early enough so that you are there early. The interview is stressful enough, don't add to it by being in a rush. Immigrants can register at the entrance 30 minutes before their appointments, giving them enough time to pass through security.
3. Dress nice
The immigration interview is a formal procedure. Dress well and be hygienic. First impressions are lasting impressions. No shorts, torn clothes, etc.
4. Review your application thoroughly
Review your application very closely, several times, before going into the interview. You should be familiar with the content of your application as well as any changes since you submitted it.
5. Take copies of everything, and ensure they are updated
Depending on the case you may be required to present original versions of documents, including passports and identity documents. Make sure your driver's license and other ID cards issued by the government have your current address and are not expired. If you are bringing original items that you do not want to leave, such as a wedding album, also bring a copy of the album for the interviewer to keep.
Call or message us if you would be more confortable having one of our very experienced attorneys represent you during an immigration interview: https://www.m2lawyers.com/contact-us/
Disclaimer: The information in this blog post ("post") is provided for general informational purposes only, and may not reflect the current law in your jurisdiction. No information contained in this post should be construed as legal advice from Muhaisen & Muhaisen, LLC. or the individual author, nor is it intended to be a substitute for legal counsel on any subject matter. No reader of this post should act or refrain from acting on the basis of any information included in, or accessible through, this Post without seeking the appropriate legal or other professional advice on the particular facts and circumstances at issue from a lawyer licensed in the recipient's state, country or other appropriate licensing jurisdiction