Serving Our Clients in the Era of "Social Distancing"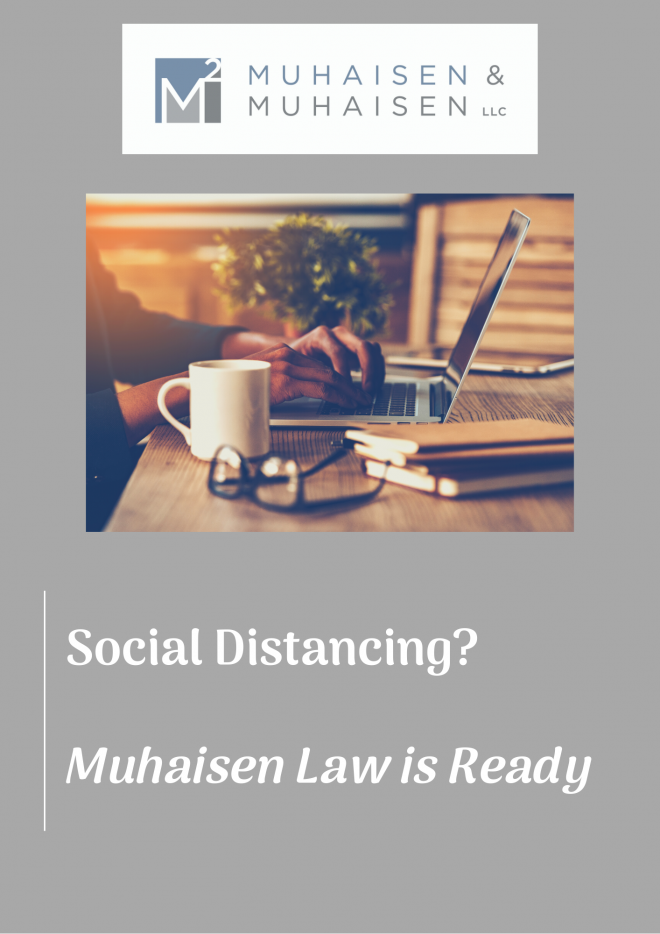 What a time it is! Businesses and individuals have justifiable health concerns, and life is changing and people are rightfully implementing social distancing. Many businesses, agencies, and even courthouses, are shutting down. Muhaisen & Muhaisen, LLC supports community safety and respect our clients's choices. We remain fully functional and are OPEN FOR BUSINESS! The Muhaisen law firm has already been prepared for the 21st Century for years and are already capable of a 100% remote working environment. We utilize the very best technology available to law firms, and can assist your clients, and consult with potential clients, quite easily and effectively.
We know that our clients and the community will continue to need legal advice and services. We have the systems in place to not miss a beat.
Remote Meetings and Communication
-Secure and simple remote client and attorney meetings
-Secure remote telephone and video-chat meetings
-Global phone system for all staff members
-Arrangement of phone court appearances in some cases Our own conference call system made available to our clients and opposing counsel(s)
-Document Review and Signatures Sharing of documents electronically
-Management of electronic agreements remotely Ability to securely sign electronically on multiple devices
Our firm utilizes the following online and cloud platforms:
-Secure Cloud-Based Client Folders and Files: Wherever our attorneys and staff are, they can access our files online though a secure portal.
-Immigration Law Software: The most advanced software specific to immigration law.
-Law Tool Box: Provides legal professionals the ability to reliably keep track of deadlines for cases and matters.
-Legal Research Online: Various cutting-edge legal research systems and document repositories.
-M2 Legal Practice Library: Our own comprehensive online legal library in all our practice areas available to our attorneys.
Wherever you are and whatever your situation, we wil make it work. Contact us here and one of us will personally respond: https://www.m2lawyers.com/contact-us/